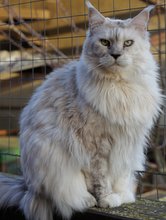 Wild Harmony's Gänseblümchen (Daisy)
Another bright black silver torbie, did I mention that I love this color ;-)
Daisy always keeps her cool. She is very curious and active, and a very smart cat. She is also a very cuddly cat, already during my visit at her breeder she spent her rest on my lap. Also at my home she enjoys every cuddle, and is happy to sit on my shoulder. If I don't have time for her, Daisy keeps on and on until I give up and cuddle with her.
Daisy is mother of the A2-litter.

Photo album

Pawpeds Entrie

Mcats Entrie
8,3 kg with 9 years
black silver torbie cl.
neutered female
*29.5.2010
9 years 11 months old
Test results:
*

normal (8.06)

normal (5.00)

normal (1.11)

normal (0.09)
K: normal (1.11)
H: HD 0,5 OFA (2.06)
G: HCM A31P normal
G: PK Def. normal
G: SMA normal
Parents
Grandparents
Great Grandparents
Justcoons Movie Star
normal (1.10)

Aloa Nifty Wolf

Allycoons Bright Star

Mountaineer Wannaway Jezebel

Langstteich DD'Elaine

Langstteich Dream-Dandy

Emy-Shou vom Mönchswalder Berg

Esprit of St. Francis

Lapcat Camino

Blue Tomcat Valentino

Lapcat Grandessa

Campari of St. Francis

Anthony of St. Francis

O'Malleys Hatari

*Heartscreening:

certified,

not certified, K: Kidneyscreening, H: Hip-xray, P: Patellascreening, G: Genetic test (smaller font: negative through ancestors). The numbers in () mean testing age in 'Years.Month'.