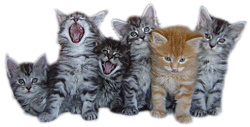 Kitten News
Videos:
YouTube
,
Instagram
Our kittens have all found their homes!

If you are interested in one of my babies, I would like to learn as much as possible about where, how and with whom (human and animal family members) my kitten would live with you. If you are a breeder, please read this before you contact me.
available: I'm looking for a good new home, do you want to adopt me?
---
option: Someone is seriously interested in me but I'm still to young to get to know me. When I am around 6 weeks old enough to have visitors, it decides whether I am taken or available again.
---
reserved: The decision is made, if everything goes well, I have found my new home!