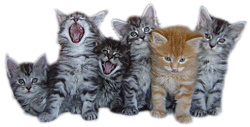 Kitten News
Videos (YouTube)
Webcam
The X-Men-litter from Olala & Calibear was born on 06.02.2019, and is now 6 weeks old.
Photos from the litter / Kittenpedigree / Pawpeds
available: I'm looking for a good new home, do you want to adopt me?
---
option: Someone is interested in me, but has not decided yet, further inquires are welcome!
---
evaluation: I'm observed as possible future breeding cat, but might become available later. Inquires are welcome!
---
reserved: The decision is made and a contract signed, if everything goes well, I have found my new home!