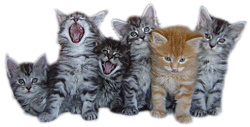 Kitten News
Videos (YouTube)
There are no kittens available at the moment.

If you are interested in one of the kittens, you can contact me by Email or WhatsApp. Please write some infos about yourself. If you are a breeder, please read this before you write.
available: I'm looking for a good new home, do you want to adopt me?
---
option: Someone is interested in me, but has not decided yet, further inquires are welcome!
---
reserved: The decision is made and a contract signed, if everything goes well, I have found my new home!