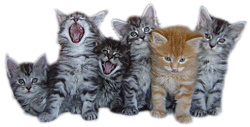 Kitten News
Videos (YouTube)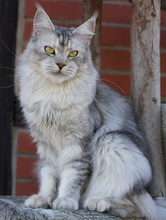 Yankee Cats
Nizhoni Navajo's beauty
black silver torbie ticked
*01.07.2016
neutered female

Informations

Photo album

Pedigree (Pawpeds)

Healthresults (Mcats)
Nizhoni is looking for a new home.
available
The You Only Live Twice-litter from Joy & Calibear was born on 25.05.2019, and is now 7 weeks old.
Photos from the litter / Kittenpedigree / Pawpeds / last litter from these parents
Yankee Cats
James Bond
black silver shaded
*24.05.2019
male

Photo album
option
Yankee Cats
Miss MoneyPenny
red silver shaded
*25.05.2019
female

Photo album
available
Yankee Cats
Tiger Tanaka
black silver shaded
*25.05.2019
male

Photo album
reserved
Yankee Cats
Sean Connery
black silver tabby cl.
*25.05.2019
male

Photo album
reserved
Yankee Cats
Kissy Suzuki
red silver shaded
*25.05.2019
female

Photo album
available
available: I'm looking for a good new home, do you want to adopt me?
---
option: Someone is interested in me, but has not decided yet, further inquires are welcome!
---
reserved: The decision is made and a contract signed, if everything goes well, I have found my new home!