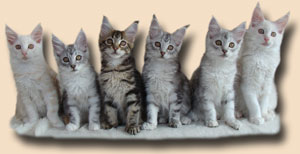 Kitten informations
My Maine Coon babies are lovingly raised and pampered, with full (cat) family connection from day one. The babies are from the very beginning in the company of other cats, and should not spend their future live as a single cat. If you wonder why a Maine Coon should not be a single cat, here are a few photos. Their might be individual cases of cats that prefer to live as a single cat, but these are rare exceptions. My kittens don't know a turbulent family life, dogs or other animals, but usually they get used to it very quickly.
Of course, I try to recommend the kitten which match the family best, a shy kitten does not fit in a lively family, so it is important that the whole family comes to visit, to see if the desired kitten fits to the whole family.
Leaving
The kittens are vaccinated against Panleucopenia, Respiratory Viral Diseases and if necessary Rabies, microchiped and neutered when they leave. They also get a veterinarian health certificate. When the kittens leave around 4 month of age they have learned from me and the other cats
to be combed and brushed, even if that often ends in an play hour,
to be hold, get their mouth opened and be touched everywhere,
to know the meaning of "no" und "ouch", and that they should not play with humans as coarse as with their siblings,
knowing the meaning of hissing from other cats, and that not all cats are as patient as their mom,
and of course to learn the entire cat language and social behavior from mother, siblings and other cats.
The kittens move with the following "starting package":
pedigree (if the cat is neutered, otherwise the pedigree will be provided after neutering),
vaccination booklet and health certificate,
plazenta nosodes for health suport for the whole live of the cat,
favorite toys,
high quality cat food,
a piece of my heart ♥
"Guarantees"
I'm sorry to disappoint you, but I can't guarantee the development of my kittens. I can only try my best to assess the future development of a kitten, and select my breeding cats mainly for health and character and after that for type and size.
On the subject of health, you will find the test results from my cats and their ancestors here on my homepage on their information sites and in the health links.
In character, tastes differ, one wants a cat that prefers playing all day and rages, the other a pussycat who likes to cuddle. I will gladly give you detailed information about the character of my cats, because the character of a cat is of course determined primarily by the characters of the parents, in addition to the rearing.
For appearance and size I don't need to write much, it's written in the breed standard, and you can decide yourself if you like the look of my breeding cats. I will be happy to tell you my assessment of the future development of a kitten.
Postscript
I wish for my babys a loving cuddle place for life. If you want to offer them such a place, I would be happy if you contact me by email. I look forward to make a apointment with visitors who want to get to know me and my cats. We are at home in Schöppenstedt, located in Lower Saxony in the middle of Germany, between Hanover and Magdeburg.
Since I only have a small cattery, I don't have kittens all year round. Should you be interested in a kitten from my breeding, I ask you to be patient.
I'm there for all questions regarding my kittens, before and after they leave my home, and I hope that I can stay a little part in the future life of my baby. With a few photos from time to time, and short reports about the cat, you would make me happy.