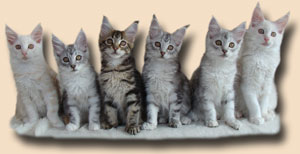 Kitten informations
My Maine Coon babies are lovingly raised and pampered, with full (cat) family connection from day one. The babies are from the very beginning in the company of other cats, and should not spend their future live as a single cat. If you wonder why a Maine Coon should not be a single cat, here are a few photos. Their might be individual cases of cats that prefer to live as a single cat, but these are rare exceptions. My kittens don't know a turbulent family life, dogs or other animals, but usually they get used to it very quickly.
Of course, I try to recommend the kitten which match the family best, a shy kitten does not fit in a lively family, so it is important that the whole family comes to visit, to see if the desired kitten fits to the whole family.
Leaving
The kittens are vaccinated against Panleucopenia, Respiratory Viral Diseases and if necessary Rabies, microchiped and neutered when they leave. They also come with a veterinarian health certificate. When the kittens leave around 16 weeks of age they have learned from me and the other cats
to be combed and brushed, even if that often ends in an play hour,
to be hold, get their mouth opened and be touched everywhere,
to know the meaning of "no" und "ouch", and that they should not play with humans as coarse as with their siblings,
knowing the meaning of hissing from other cats, and that not all cats are as patient as their mom,
and of course to learn the entire cat language and social behavior from mother, siblings and other cats.
The kittens move with the following "starting package":
pedigree,
vaccination booklet and health certificate,
plazenta nosodes / colloidal silver for health suport for the whole live of the cat,
favorite toys,
high quality cat food,
a piece of my heart ♥
My kittens are insured with Agila Tierkrankenschutz exklusiv. The insurance can be taken over when the kitten moves out or can then be canceled by me. Due to the sharp increase in veterinary costs, I strongly recommend taking over the insurance, which can then be used without waiting.
Price
A kitten costs between 1000 and 1300 Euro here. For this you get:
A lovingly raised, spoiled and well-socialized kitten.
Already neutered, chipped, vaccinated and free of intestinal parasites and infectious diseases.
Extensive preventive health examinations of the ancestors over many generations up to old age.
28 years of breeding experience and pedigrees that go back to 26 years of my breeding.
Selected lines with direct origins in the USA, the country of origin of the Maine Coon.
Rare colors with very light silver, which is unique with this line and health background.
Lots of information and an extensive starter pack with the usual food and toys.
A contact person for all feline concerns and questions for the entire cat's life.
"Guarantees"
Unfortunately I have to disappoint you, I can't guarantee anything, I can only try to do my best to assess the future development of a kitten, and select my breeding cats mainly for health and character and after that for type and size.
You can find a lot about health here on the homepage. Which possible hereditary diseases my cats and their ancestors were examined for can be found on the cats' pages, in their family trees and under Health.
When it comes to character, tastes vary; some people want a cat that likes to play and run around all day long, while others want a cuddly cat that just likes to cuddle. I would be happy to give you detailed information about the nature of my cat parents, as the character of a cat, in addition to how it was raised, is of course primarily determined by the characters of the parents.
I don't want to write much about appearance and size, that's what the breed standard dictates, you can see for yourself whether you like my cat parents. Basically, I breed the original American Maine Coon type, and not the so-called "European" type, which has now been partially modified outside of the breed standard. Of course, I would also be happy to provide information about how I assess the future development of a kitten.
Postscript
I wish for my babys a loving cuddle place for life. If you want to offer them such a place, I would be happy if you contact me. I look forward to make a apointment with visitors who want to get to know me and my cats. We are at home in Schöppenstedt, located in Lower Saxony in the middle of Germany, between Hanover and Magdeburg.
Since I only have a small cattery, I don't have kittens all year round. Should you be interested in a kitten from my breeding, I ask you to be patient.
I'm there for all questions regarding my kittens, before and after they leave my home, and I hope that I can stay a little part in the future life of my baby. With a few photos from time to time, and short reports about the cat, you would make me happy.