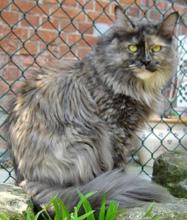 Unicoon Micaje Tanka the Yankee Cat
Tanka is mother of the F, I, N, P, Q -litter.

Photo album

Pawpeds Entrie

Mcats Entrie
7,2 kg with 6 years
black tortie smoke
neutered female
*26.3.2000 - †..2011
10 years 8 months old
Test results:
*

normal (7.11)

normal (5.07)

normal (3.02)

normal (1.09)
P: normal/normal (2.06)
Parents
Grandparents
Great Grandparents
Terrificats Johnny Walker Black
normal (12.00)

Lovabacon Tom Terrificat

Kreidcats Sheridan

Unicoon Lotus-of-the Nile

P'Kaykatz Bones Mc Coon

Terrificats Satori

*Heartscreening:

certified,

not certified, K: Kidneyscreening, H: Hip-xray, P: Patellascreening, G: Genetic test (smaller font: negative through ancestors). The numbers in () mean testing age in 'Years.Month'.