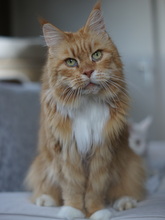 Bogy Cat's Flower Fantasy (Fancy)
Despite her dust allergies that were already established young and the breathing problems related to that, Fancy celebrates already her 10th birthday.
Since Fancy never had babies, she adopted other "babies" and cares very well for her Ikea rats ;-) She regularly places them on or in the food bowl, on the balcony or in the garden in the sun, and put them into my bed.

Photo album
5,2 kg with 10 years
red tabby mc. white
neutered female
*1.8.2006
14 years 0 months old
Test results:
*

normal (1.03)
13,7% COI, 71,8% Top5, 37,4% Clones (Explanation of what these values mean)
Parents
Grandparents
Great Grandparents
Dynamicats Jeep Willys

Dynamicats LL Cool J

Thundercats Sex on the Beach

Bogy Cat's Momaday
normal (1.11)
G: HCM A31P normal

Bogy Cat's Flying Shadow
normal (3.08)
G: HCM A31P normal

Frolicoon Hopi
normal (8.01)

Ol' Shag Mauna Kea
normal (8.10)

*Heartscreening:

certified,

not certified, K: Kidneyscreening, H: Hip-xray, P: Patellascreening, G: Genetic test (smaller font: negative through ancestors). The numbers in () mean testing age in 'Years.Month'.