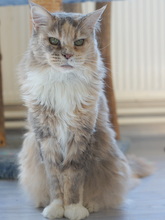 Pillowtalk Luna
After Luna's color I searched for many years, blue-torbie-white with very light blue and lots of cream. Apart from that she also has a great type and a sweet character. Because of her "Pastel colour" Luna is for me my "Püppi" (dolly), even if her size is by no means like a doll.
In her first litter Luna has shown that she is also a wonderful mother. Her 6 babies were lovingly provided by her after she has brought them easily and in a record time into the world. From the looks of the little ones I was thrilled at birth, and they have evolved just as promising.
Luna is mother of the J, K, M-litter.

Photo album
4,4 kg with 15 years
blue torbie cl. white
neutered female
*12.4.2001 - †18.11.2017
16 years 7 months old
Test results:
*

normal (3.02)

normal (2.01)
14,9% COI, 72,6% Top5, 38,3% Clones (Explanation of what these values mean)
Parents
Grandparents
Great Grandparents
Pillowtalk Bodyguard

Yakima Mac Intosh

Lioncats Shirly Sue

Langstteich Ca Philadelphia

Langstteich Calvin

Capecoon Perdita

*Heartscreening:

certified,

not certified, K: Kidneyscreening, H: Hip-xray, P: Patellascreening, G: Genetic test (smaller font: negative through ancestors). The numbers in () mean testing age in 'Years.Month'.