Ancestors of today's Yankee Cats
My first litter was born in 1996, from my first litters are however no descendants anymore in my cattery today, as I initially thought that I don't need to keep every beautiful cat for my own breeding.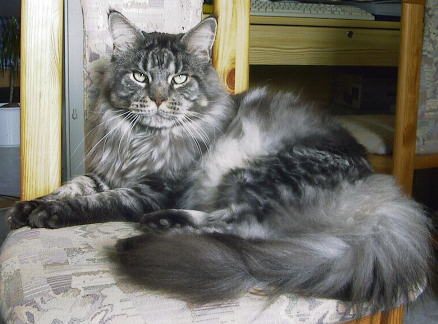 The "Yankee Cats line" begins with my first own breeding male
Percy vom Weidebusch
(born 01.05.1997, on the left), who was the sire of my C to G-litters in the years 1998 to 2001.
Even from Percy I almost keeped nothing, which would have been a big mistake. Percy's kittens were all great, but especially the ones with
Apanatchee of Chamberlain
(born 09.07.1999, on the left) from my E- and G-litter. Apanatchee was the dam of my E, G, H and L-litter in the years 2000 to 2003.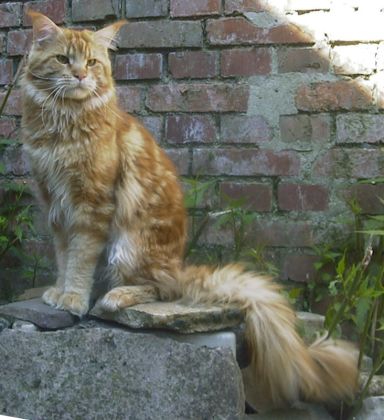 That my
Yankee Cats Garibaldi
(born 13.06.2001, on the right) from the G-litter stayed with me is owed to his character, although he was already spoken for I could not let him go, Garibaldi was my absolute heart boy. Since his dad Percy was already neutered, Garibaldi has then suceeded him, and was sire of my H, J, K and M to Q-litters in the years 2002 to 2005.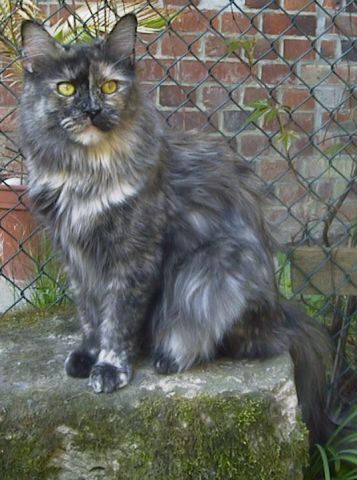 From Garibaldi I wanted and kept several children, but only from one there are still Yankee Cats descendants. The Q-litter from Garibaldi with
Unicoon Micaje Tanka
(born 26.03.2000, on the left) was the last chance to keep a kitten from him, because Garibaldi was already neutered before birth. Tanka was the dam of my F, I, N, P and Q-litters in the years 2001 to 2005.
Since
Yankee Cats Quigley
(born 28.07.2005, on the right) was then an only child, I made the decision that he stays a few days after his birth, no matter how he would develope, if he would have not been suitable for breeding he would stay as neutered pet. At first I had no unrelated girl for him anyway, but after Quigley has developed wonderfully, he was in the years 2009 to 2013 sire of my W, Y, Z-litter and of Centi from the Diamonds-litter.
Meanwhile Quigley is neutered, grandchildren of him were born from Yosie and Centi too, but the line will be continued through Liv, her daughter Joy and Joy's children.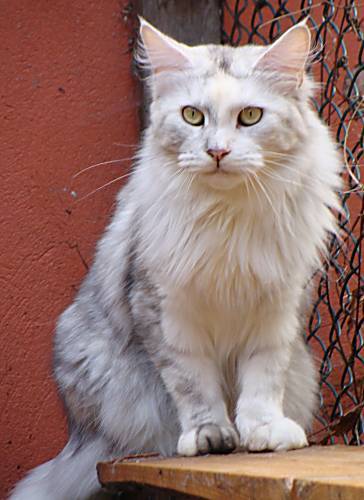 Now the overlapping starts.
Gladür's Roxette's Joy Ride
(born 06.10.2007, on the left) ist both the mother of Quigley's daughter
Liv
as of
Calibear
. Roxette was the dam of my W, X and Z-litter in the years 2009 to 2011.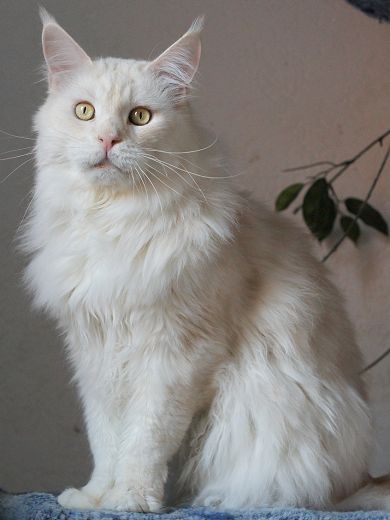 Yankee Cats XCalibear at Shade-a-lot
(born 19.01.2010, on the right) stayed with me from my X-litter of Roxette and Silverado of the Catwalk (born 05.06.2003). At the age of 10 he has now retired, his son Nanuq will be the successor. Cali was sire of my A2 to Z2-litter in the years 2011 to 2019.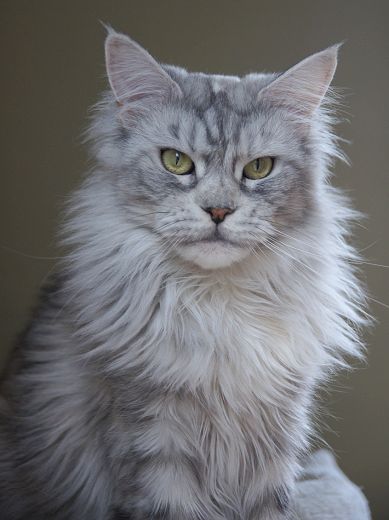 The Z-litter from Rox and Quigley was a very special one, Roxette's last litter. It was almost clear right after birth that
Yankee Cats Liv Lizrael
(born 16.01.2011, on the left) would stay with me. I still kept my decision between her and her sister Neva a while open, but with her little red "star" on the head Liv was my favourite since birth. Liv was the dam of my E(Angel)-, Highlander-, Queen- and UrsaMajor-litter in the years 2013 to 2018.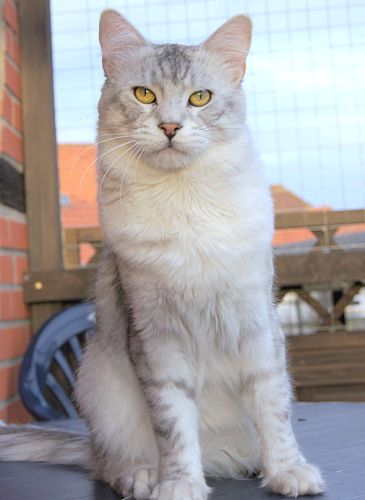 Sire from Liv's first litter was
Coonplay Sampson Supreme
(born 23.09.2011, on the right). Next to the E(Angel)-litter Sampson was also sire of Cora from the Diamonds-litter, in the year 2013.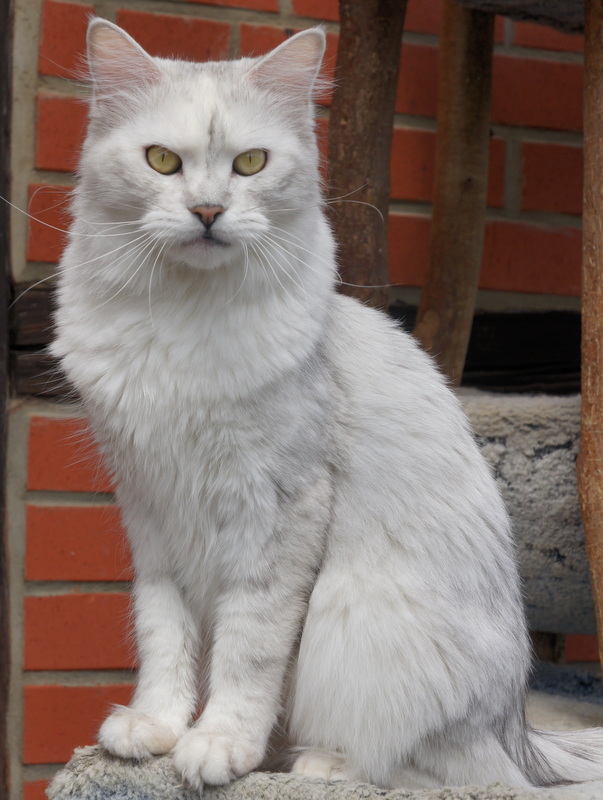 From the E(Angel)-litter of Liv and Sampson
Yankee Cats Angel of Joy
(born 01.11.2013, on the left) remained with me, at the moment she was born I knew she must stay. With her a dream came true that I hardly dared to dream, the combination of "my" line with bright silver. I am very curious which beautiful children Joy will give me. So far she was the dam of my Moon-, Out of Africa-, V(ancestors)-, Y(ou Only Live Twice)-, Joy- and Dream-litter between 2015 and 2022.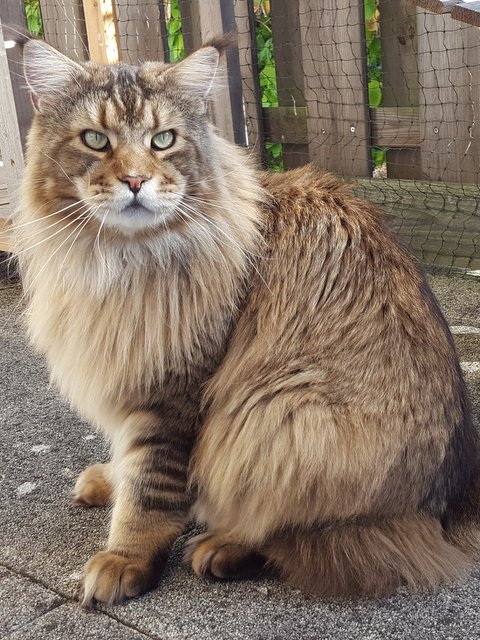 Floh of Forster's Home
(born 13.01.2015, on the right) was the father of O(ut of Africa) to P(eanuts), T(exas) to V(Ancestors) and the US Citys-litter between 2016 and 2020.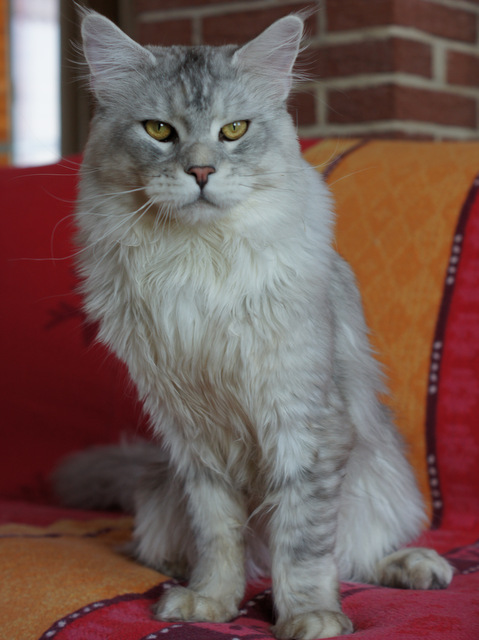 Although the litters of Joy and Floh were stunning, I only indirectly kept something.
Yankee Cats Percy Gray
(born 19.04.2018, on the left) from the V(ancestor)-litter has moved to a breeder friend near me, and will continue to be available to me for breeding. Percy was so far sire of the Luck-litter in 2020.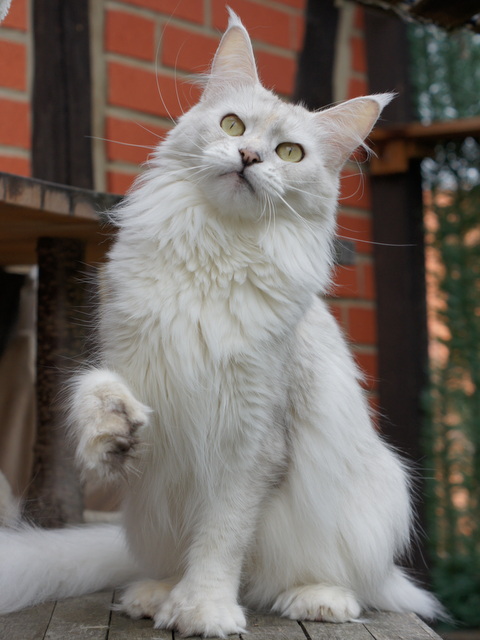 As granddaughter of Joy and Floh,
Olala PP of Magic Arcadia
(born 15.01.1818, on the right) came back to me, her mother is Lubaya from the Out-of-Africa-litter. Olala was so far the dam of the Xmen-, Luck-, Pumpkin and BossHoss-litters since 2019.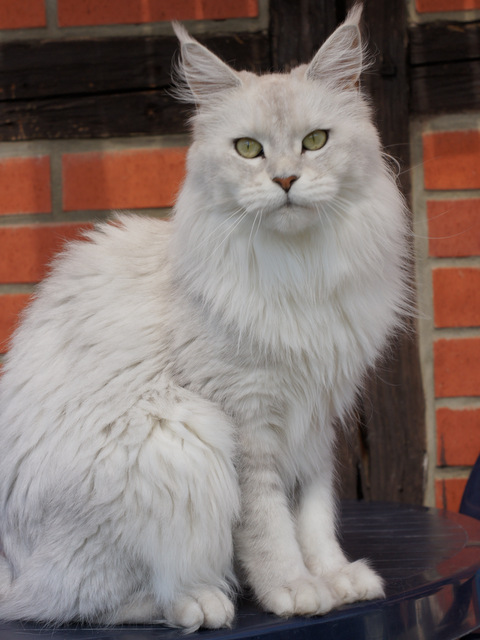 Fragglerocks Katjes Frozen Yoghurt
(born 06.06.2017, pictured left) is so far the mother of the W(hite), Z(Z-Top) and US Citys litter since 2018. My wish to get a black silver shaded son from her and Calibear already came true in the first litter :-)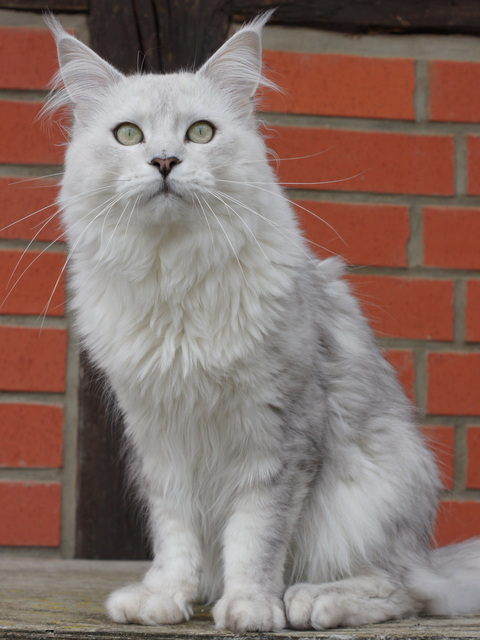 From the White-litter of Katjes and Calibear
Yankee Cats Nanuq the White Bear
(born on 16.10.2018, right in the picture) stayed with me, my dream cat for which I had hoped from this mating. So far, he is developing very promisingly, and after his first litter he replaced his father in my breeding program. Nanuq is the sire of the Joy, Cocktail, Gifts, Pumpkin and BossHoss-litter since 2020.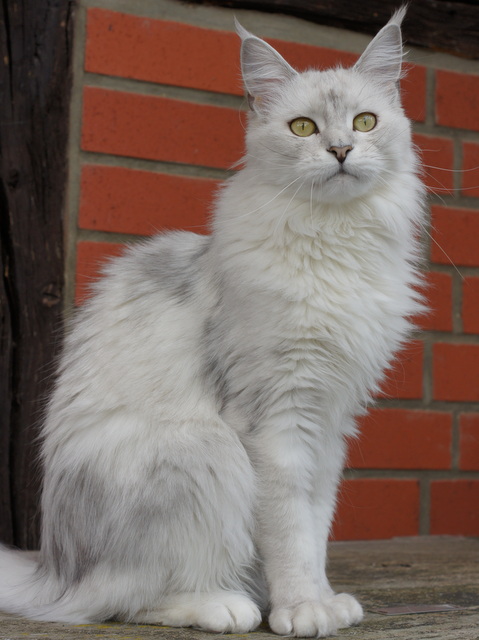 From the repetition of Katjes and Cali's litter I wasn't able to resist
Yankee Cats Viva Las Vegas
(born on 15.10.2019, left in the picture), so she stayed with me too. Viva is so far the mother of the Cocktail and Whisky-litter since 2021.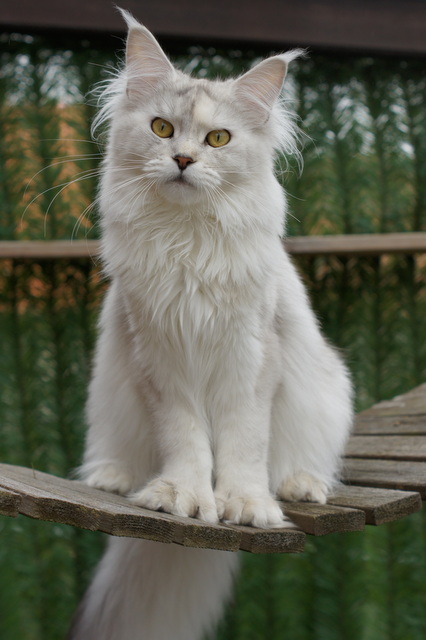 Yankee Cats Fe'lici'tas PPurrfect
(born on 19.05.2020, right on the picture) stayed with me as the daughter of Olala and Percy, as her name suggests, she is just perfect for me. Lici is the mother of the gift-litter in 2021.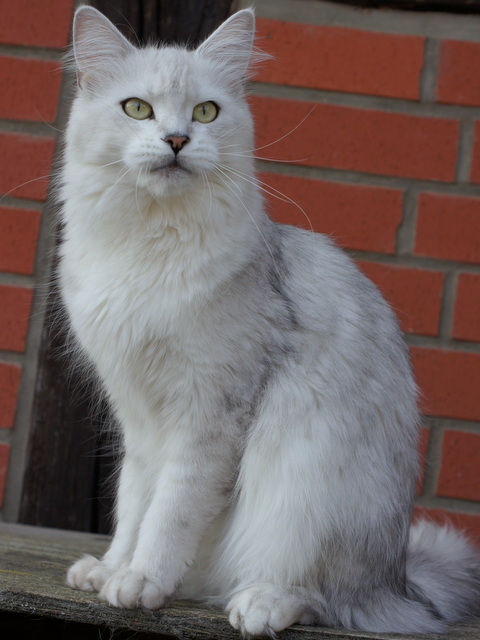 My dream child of Joy and Nanuq is Lani (
Yankee Cats Q's Joylani Alokea
, born on 05.07.2020, left in the picture). I'm just as excited about her further development as I am about her first kittens.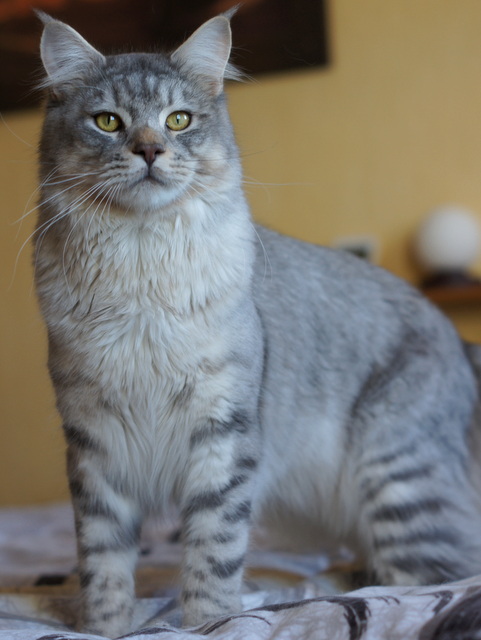 "Dayo" Rhaegar PP of Magic Arcadia
(born on 25.11.2020, right on the picture) brings interesting new lines, with fantastic health care. So far he is the father of the Dream and Whisky litter in 2022.
The mating of Olala and Nanuq brings me closer and closer to my breeding goal, which is why Patty (
Yankee Cats White Patty Pan PP
, born 26.07.2021, left in the picture) from the first litter of the two stayed with me.
Yankee Cats Jolene with ivory skin PP
(born on 17.11.2021, on the right in the picture) from the Oops litter of Olala and Nanuq must also stay.
With Joy's last litter and Dayo's first litter, a dream came true for me, so both sisters are staying for now, just to be on the safe side. (
Yankee Cats Ashly Aisling
and
Yankee Cats Velika Sanjarica
, born on 08.02.2022, left in the picture).
Now I'm curious what the future will bring and to see the next generations Yankee Cats!